HI-SEAS, Sensoria Mission 2
Mars (Analog Space Mission, 2 WEEKS)
We talk about going to Mars but what is it like living there? Often we consider the technological breakthroughs needed for space exploration but what does it mean to be a human in space?
As we venture outward into the solar system, we must consider human factors of space settlement. Our emotions, social tendencies, and individual needs create an intricate, somewhat unpredictable outcome to each mission. Human behavior and instinct adds a fascinating dimension to the story of space exploration, especially when it is experienced first-hand.
As I traveled to Mars through the HI-SEAS Sensoria Mission 2, I explored the role of arts and culture off planet. This journey considers what art can do for the individual, the crew, and for all those back at home on Earth.
Like the tales of humanity recorded on the caves during the Paleolithic times or the elaborate oil paintings made when Christopher Columbus set sail, we use art to reflect the identity of place. From frontier paintings of the American West to Ansel Adams' photographs of America's wilderness — the art brought home let others dream the journey ahead.
Today, even with greatly advancing technological development in space exploration, the journey is destined for the very limited few (at least for now). This makes it necessary that the arts be included in the journey to space. Performance philosopher Jason Silva recounts, "Our painting, our songs, our stories — they are maps from where we went." Within these adventures the artist transports others to distant places. In this way, art is a passport for the masses.
While on Mars, I aimed to bring the tales of adventure home while also envisioning a new future elsewhere. When I first stepped foot on the Martian soil, I knew I had to record this moment in art. Just as Neil Armstrong and Buzz Aldrin took the first steps on the Moon, footprints from our all-female crew patterned the areas surrounding the Habitat.
It was a meaningful moment to take those first steps and consider what trail we will leave behind. After only a couple days into our mission, I set out a trail of "Eco-Footprints" that traced my path during my first Extravehicular Activity (EVA). Each print alludes to the decisions we make when navigating the space frontier — do we choose to explore or exploit? From grassy imprints that terraform the Martian soil to polluted trash-filled prints that scar the red planet, it's up to us to choose what trail we leave behind.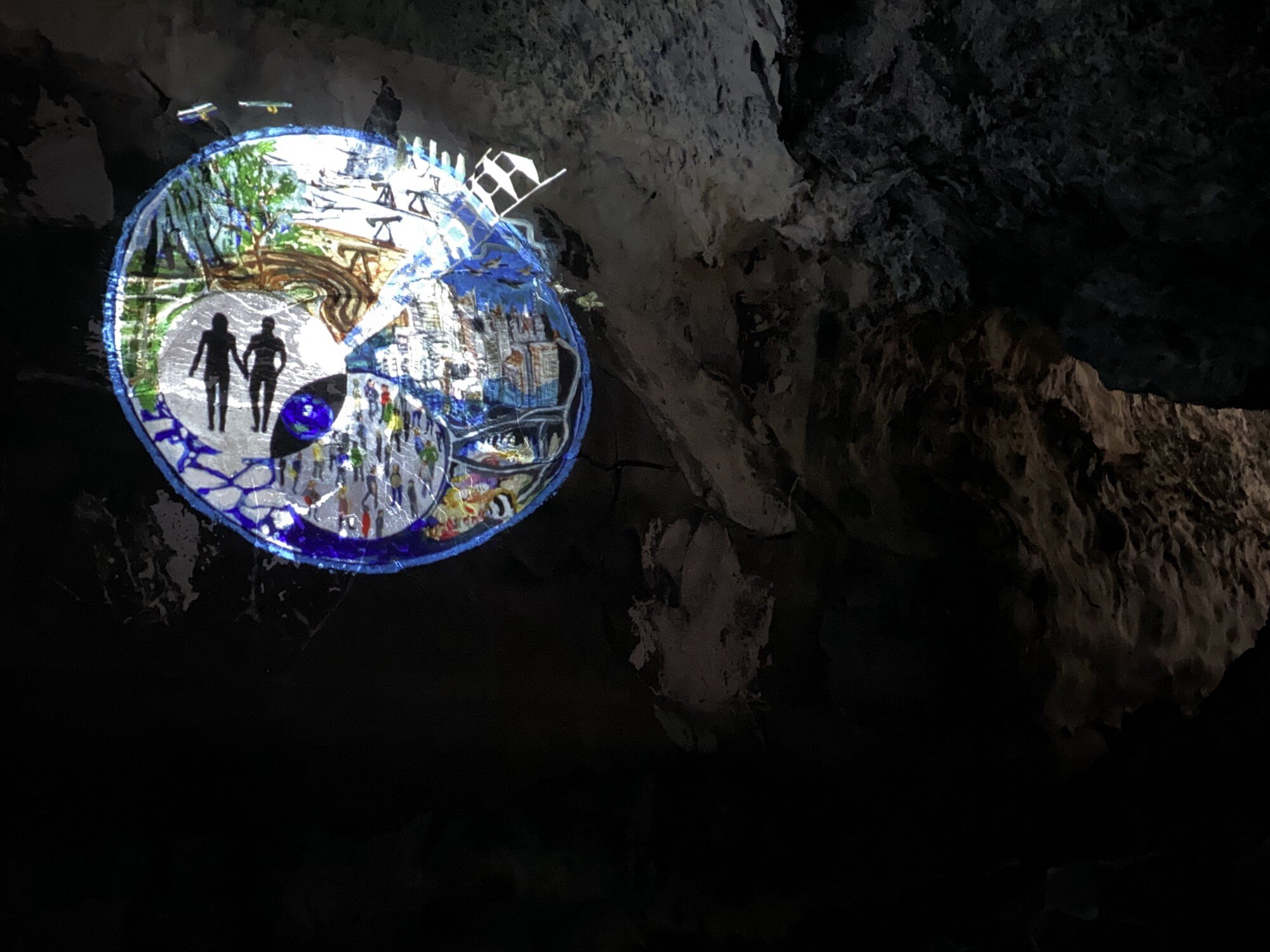 When I learned that some of the first settlements off-planet are likely to be in caves on the Moon and Mars, my first thought was: what will be the Cave Paintings of the 21st Century? What a beautiful story of our evolution where we venture to new planets and return to our primitive origins in the caves. How do we share the stories of our journey? How do we tell the tale of seeing Earth from space? And how do we extend the narrative of ourselves?
I created several new artworks projected onto cave walls within deep lava tubes in the Martian terrain. Images referenced migration, the Overview Effect, global networks, biodiversity, and extension beyond Earth. Similar to Plato's Cave, I photographed the shadows we cast on the cave walls, asking how do these shadows illuminate aspects of our identity, our reality?
Making art in the space frontier provided a way to contemplate and interpret new feelings and insights and open new forms of communication and connection with crew mates. We use art as a vehicle to ask ourselves who are we, where did we come from, and what are we becoming?
Like any story of a new frontier, the souvenirs told the story of expedition. I wanted to think of ways to bring back a piece of Mars without adding extra weight to our payload and — more importantly — without disrupting and extracting from the pristine environment.
I made a series of paintings from pigment powders of abundant materials found on Mars: Martian dirt and (lifeless) iron oxide dust. I selected materials that did not deplete our inventory or risk our survival. I used site-specific and easy to transport powder pigments including Martian dust and dehydrated spirulina (Spira Inc) mixed with my saliva (a renewable resource), to paint the new world.
Similar to how Darwin painted the beaks of birds observed on the Galápagos to share wild diversity to those in mainland Europe, I painted porous patterns and colors of unique Martian rocks that covered the land. My goal was to bring these rocks home, so people could experience them up close. Then I created 3D scans of the Martian rocks and used augmented reality to bring the rock paintings to life.
Viewers hover a tablet or smartphone over the Martian rock collection, revealing a 3D scan of the original Martian rock rotating on the screen. The paintings themselves become an artifact of place linked to the human touch.
These projects are only a small selection of artworks made during my mission to Mars. To contemplate the role of art off planet, I screened curated video works on the Habitat walls, let crew make their own painted postcards from Mars, and made artworks inside and outside of the Habitat. Additionally, our crew took breaks between the works required on our mission to dance, sing, play instruments, watch movies (Star Wars, of course!), write songs and poetry, tell stories, and write.
Art brought us together as a crew, even though our crew was a mix of scientists, engineers, and journalists. Each crewmate had a hidden creative talent to share and give to others, and (of course) I made sure we had plenty of art-related activities and projects inside the Habitat to color our experience. It was a private and public act that transported us to new insights, past memories, and future visions.
What I found to be one of the most important findings for art in the space frontier is that it let us travel and expand beyond the confines of the small Habitat, and reach as far as we needed to go in our imagination. It was within that moment of realizing the expansiveness of art to travel anywhere that I also realized it was art that brought us all to Mars.
Each crew mate recounted stories when they realized they wanted to be an astronaut or pursue their mission in space — these stories often originated from a film or a song or a story they heard. It was art that provided a map to guide them into space. Now, I hope my art can lead others to new places and experiences, whether a journey on foot or in the mind. With art, we travel beyond. In art, we discover infinite possibility.